Gina Livingston
Reading Intervention
Email:
Gina_Livingston@dpsk12.net
Phone:
x 47684
Department(s):
2nd Grade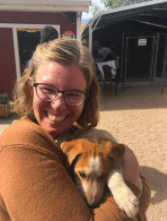 Hello, my name is Ms. Livingston!  I have been teaching at DCIS at Fairmont for NINE years.  I continue to come back year after year to DCIS because this community is the best, and I am glad I get the chance to be a part of it.  I have enjoyed teaching a plethora of grades, mostly primary, and subjects throughout the years.  I have found my niche in reading intervention.  It is my joy to teach children to read and watch students get excited as their world opens up through literacy. Currently, I am studying to get my dyslexia certificate to be able to support an even greater range of students.  
When I am not at school, I enjoy adventures with my thirteen year old son, Isaiah, and our two dogs, Wisco and Izzy.  Additionally, I enjoy lettering (modern calligraphy), being my grandma's pen pal, reading historical fiction, drinking coffee, and traveling to new places.  My life goals are to visit all the National Parks in the United States and to serve on the John Newbery Committee one day when I am retired!
Gina Livingston has been teaching early elementary school for nine years. Gina has her Bachelors degree from the University of Wisconsin- Eau Claire and her Masters of Education from the University of Colorado. She joined Teach for America in 2008. After her two year commitment, she decided to make a life long career out of teaching. Gina currently is a reading interventionist here at DCIS at Fairmont. Gina loves inspiring young minds to be life-long readers and learners. When not at school, Gina enjoys hiking, camping, and traveling! She spends lots of time with her 9 year old soon and her dog, Wisco. On Sundays you can definitely find Gina cheering on her Green Bay Packers!