Alex Wenzel
Principal
Email:
Alexandria_Wenzel@dpsk12.net
Phone:
X 47664
Department(s):
Administrators and Office Staff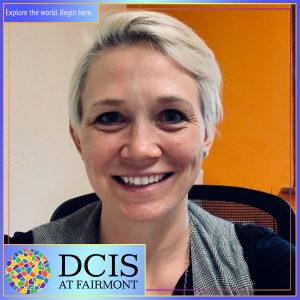 One of the most important things to know about Alex is that she is a parent first, with two of her own children enrolled here at DCIS at Fairmont. Long before dreaming that I would be the Principal, she searched for a school that matched her values and hopes for her children. She didn't just want them to 'do school'. She wanted them to have experiences that help them grow as humans as part of an interconnected and diverse world.  She hopes that their education would support the building of a more socially just, inclusive and sustainable world.  And that is just what she's found and continues to foster now as the school's principal.
Alex has degrees in both International Education and Curriculum and Instruction and comes with a wealth of background teaching and leading abroad.  She's taught in South Korea, Venezuela and Singapore and values what both local and global perspectives bring to students through education like this.
Originally Alex hails from Wisconsin and is a UW alumni, enjoys cheese, music and being outdoors!