Betsy Chappell
Speech Pathologist
Email:
Betsy_Chappell@dpsk12.net
Phone:
x 47665
Department(s):
SPED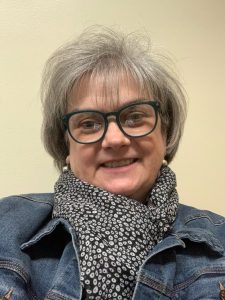 "Ms. Betsy" is from the small southeast Kansas town of Coffeyville. She attended the University of Kansas (KU-the home of the Jayhawks!!) where she received her Bachelor of Arts and a Master of Arts in Speech-Language Pathology (SLP) with a minor degree in Audiology. She graduated in 1987. Ms. Betsy and her husband Jim and their family of six children (plus one adopted daughter) lived in Lawrence, Kansas until 2002 when they moved to Colorado. Ms. Betsy spent sixteen years as an at-home mom before returning to her practice as a Speech-Language Pathologist in the fall of 2009 when she joined DPS and was assigned as the SLP at Fairmont Dual Immersion Academy. As Fairmont has transitioned to become DCIS at Fairmont, Ms. Betsy is honored to be continuing in her eleventh year there as an SLP working with students of all ages who need extra support with speech, language and communication skills.
Being part of an international community has always been important to Ms. Betsy. She was a college exchange student in Japan and she has hosted exchanged students from Germany and Korea throughout the years. She has also chaperoned high school students travelling throughout Italy.
Little known facts about Ms. Betsy: *She has 5 grandkids. *She loves baseball and basketball and is a serious University of Kansas Jayhawk college basketball fan! *She lives in downtown Denver and works part-time during weekends for the Denver Convention and Visitor's Bureau in the Tourist Information Center, advising visitors about things to see and do in Denver and the surrounding areas. *Her favorite hobbies are cooking and exploring new recipes, reading good books, crafting and bargain hunting at garage sales and thrift stores.