Lauren Wolf
Dual Language Immersion
Email:
Lauren_Wolf1@dpsk12.net
Phone:
x 47657
Department(s):
2nd Grade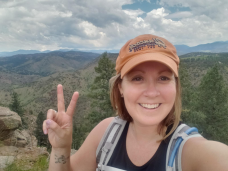 Hola; ¡Mi nombre es Sra. Lauren Wolf y estoy muy feliz de conocerte! Soy originaria de Houston, Texas; ¡Me mudé a Denver hace 11 años y decidí quedarme en este estado increíble y mágico! Después de terminar mi licenciatura en 2007, me fui a vivir a Quintana Roo, México, durante cuatro años antes de mudarme aquí a Colorado. Este es mi octavo año de ser docente y mi cuarto año en DCIS en Fairmont. ¡Me encanta ser parte de la familia DCIS en Fairmont! Tengo experiencia enseñando tercer grado, primer grado y segundo grado. Si bien vengo de muchas generaciones de maestros, estoy orgullosa por ser la primera en mi familia cercana en completar un programa de posgrado, completando mi Maestría en Educación y Desarrollo Humano de CU Denver en 2015. Estoy muy feliz de continuar enseñando segundo grado este año; ¡Es una edad en el desarrollo de aprendizaje súper divertida! Cuando no estoy en la escuela, puedes encontrarme pasando tiempo con mis amigos y sus animales, pasando tiempo en la naturaleza, haciendo crossfit, yoga o bailando. También disfruto leer, escribir, cocinar, ver películas, ir a museos y crear arte con mis amigos. Si bien me encanta salir y viajar entre todas mis actividades alrededor del hogar, también me encanta conocer pequeños lugares locales en todas nuestras comunidades locales (en mi ciudad de Arvada, Denver, Lakewood, Golden y Boulder ). Estoy muy agradecida de poder trabajar con cada uno de ustedes y sus hijos, como familias y compañeros de aprendizaje, durante este año escolar. ¡Hagámoslo inolvidable! 
Hello; my name is Ms. Lauren Wolf and I am so happy to meet you! I am originally from Houston, Texas; I moved to Denver 11 years ago and decided to stay in this amazing, magical state! After finishing my undergraduate degree in 2007, I went to live in Quintana Roo, Mexico, for four years before moving up here to Colorado. This will be my eighth year teaching, and my fourth year at DCIS at Fairmont. I love being part of the DCIS at Fairmont family! I have experience teaching third grade, first grade, and second grade. While I come from many generations of teachers, I am proud to be the first in my close family to complete a graduate program, having completed my Master's Degree in Education and Human Development from CU Denver in 2015. I am so happy to continue teaching 2nd grade this year; it is a super fun age of learning! 
When I am not in school, you can find me spending time with my friends and their animals, spending time in nature, doing crossfit, yoga, or dancing. I also enjoy reading,
writing, cooking, movies, museums, and creating art with my friends. While I do love to get out and travel in-between all of my home-body activities, I also love getting to know little local spots all around our local communities (in my neighborhood of Arvada, Denver proper, Lakewood, Golden, and Boulder). I am so grateful to be able to work with each of you and your children, as families and learning partners, during this school year. Let's make it unforgettable! 
lauren_wolf1@dpsk12.net